Maglousidi School has been operating since 1981,
with experience and know-how that few educational centers
can claim to have them.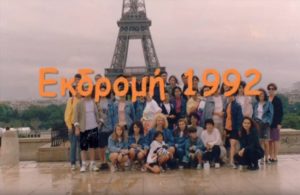 1980-1981 : Its founders Savvas and Nicoletta Maglousidi, having completed their university studies in Lausanne, Switzerland, start in the field of foreign-language education by teaching French language with their innovative ideas and differential approach to teaching a foreign language.The proposed model is inspired by an innovative, for the time,philosophy that constitutes the triptych of success
The child at the center of educational interest
The quality structure of teaching
Continuous research and development
1987 : The English language department is created after strong encouragement of many parents to the standards of a successful educational process which has been continuously enriched ever since!
2004 : Xenia Maglousidou, completing her studies at the Aristotle University of Thessaloniki, joins the teaching staff and takes charge of the studies giving the freshness of the new blood.
2005 : IT department begins. This area, with an equal role in modern educational orientation, comprises an integrated curriculum aimed at both students and adults seeking certification or just computer literacy.
All these years our objective mission and guarantee has been and is the high quality of service, with strict specifications, prestige and reliability, to provide the student with the appropriate supplies that will surely enhance his competitiveness in the demands of the world market! From the selection of qualified educational and administrative staff to the provision of modern supervisory material, quality assurance is the primary and main concern of Maglousidi School! With its remarkable work and dedication to quality, efficiency and uniqueness,Maglousidi School looks at the future with confidence and optimism, creates the right conditions for even greater expectations, and aims to create a state-of-the-art provider capable of delivering products and tomorrow's services.
Because a school unit does not have the sole task of transferring knowledge, we find it positive that we give our students multiple opportunities to develop their cooperation and personality through projects and events in which they participate. We feel very proud that the name Maglousidi is recorded today in the consciousness of the world, as a quality synonym for the provision of educational services.
We thank you all for your trust over time!